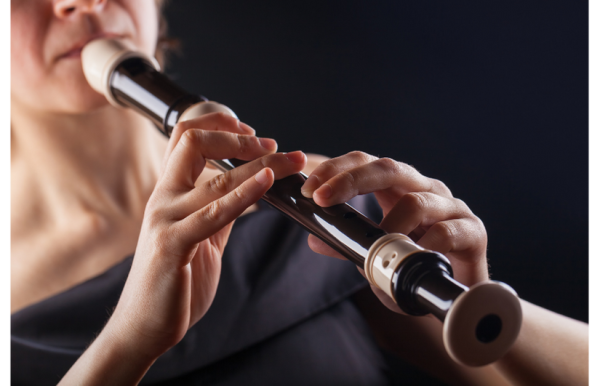 The Recorder
There's a lot to love about recorders. Our woodwind team has put together some useful information for anyone interested in learning to play.
Lesson packages start from £82 per term for children/£100 per term for adults, with discounts of up to £30 per term for Kirklees Priority Passport holders. Please see INSERT LINK TO PRICE LIST PAGE for details.
Click here to
apply for lessons
Let's get playing!
Recorders are one of the most accessible instruments for all ages.
Good quality plastic recorders are very affordable. The descant recorder makes an excellent starter instrument for new musicians, and recorders are lovely instruments to choose to specialise in too.
Special features
Recorders have been around for a very long time (at least 600 years!). They have a very distinctive sound which make them excellent solo instruments.
Recorders come in different sizes that play different ranges of notes. When they play together in a group the individual sounds of the instruments merge together like the lower and higher voices in a choir.
Why choose the recorder?
Recorders are brilliant! It is easy to make a nice sound playing the recorder from your first lesson. They are one of the easiest instruments to look after and playing develops breathing technique, co-ordination and skills which can be transferred to other woodwind instruments. Experienced players can enjoy learning to play a range of instruments within the recorder family.
Recorders and their instrument family
Recorders are part of the woodwind family. There are different sizes of recorder and most students begin playing the descant recorder. This is the one you often see in schools and has a relatively high range of notes.
Sound is made by blowing air into the mouthpiece and covering holes with the fingers to change the notes. There are no moving keys or reeds like you might find in other woodwind instruments.
The recorder in action
This piece is performed on a descant recorder. The opening 'Allegro' shows the fast and flighty side of the instrument, and in the 'Largo' that follows it demonstrates a sweet and gentle tone.
Vivaldi Recorder Concert in C Major RV443 performed by Bremer Barockorchester and soloist Dorothee Oberlinger: