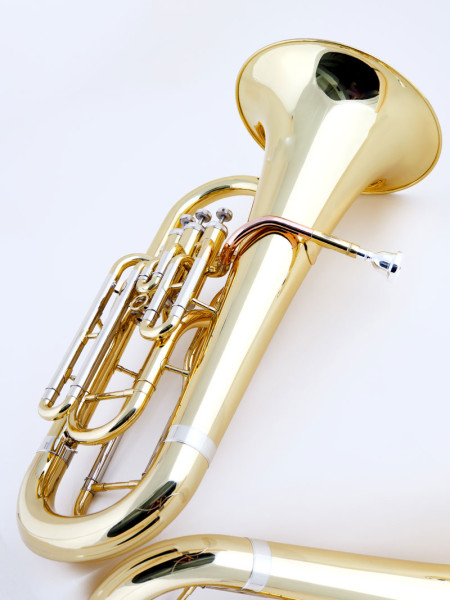 The Tuba
We love the tuba! Find out more about how and why you should choose to play this instrument with some useful information from our brass team.
Lesson packages start from £64 per term for children/£74 per term for adults, with discounts of up to £20 per term for Kirklees Priority Passport holders. Please see INSERT LINK TO PRICE LIST PAGE for details.
Click here to
apply for lessons
Let's get playing!
Adults and children can enjoy learning the tuba with Musica Kirklees. It is a large instrument with mini tubas available for younger/smaller players. Tubas may be loaned from Musica Kirklees for lessons (subject to availability).
Children often benefit from beginning lessons once their second teeth have started to develop and in general find it easier to manage the instrument when they reach age 11 upwards. We do however encourage parents/carers of pupils of any age interested in learning the tuba to contact us and our teachers will be happy to discuss suitability on a case by case basis or suggest alternative instruments.
Special features
The tuba is a very versatile instrument and found in lots of different types of groups including brass bands, wind bands and orchestras.
It can be a solo instrument or it's large size means it plays low sounds and can play the bass line in many bands, in the same way a bass guitar does in a rock group.
Why choose the tuba?
Tubas are brilliant!
Benefits of playing the tuba include:
Good for breathing and posture, especially for those who suffer from asthma
You can join lots of groups
Encourages independent learning as well as working as part of a team
The tuba and its instrument family
The tuba belongs to the brass instrument family. It plays the lowest notes in the family that includes the trumpet, cornet, French horn, flugel horn, baritone, tenor horn and trombone. It's nearest relatives are the tenor horn and baritone; younger/smaller players sometimes lessons on these instruments before moving on to the tuba.
Like all brass instruments, sound is made by buzzing air into the mouthpiece. There are valves too (the buttons that you press) to help play different notes.
The tuba in action
In this performance, tubas show their versatility by playing the bass line as well as the melody and accompaniment.
In the Hall of the Mountain King by Grieg, performed here by Jonathan Gawn and Richard Fox: