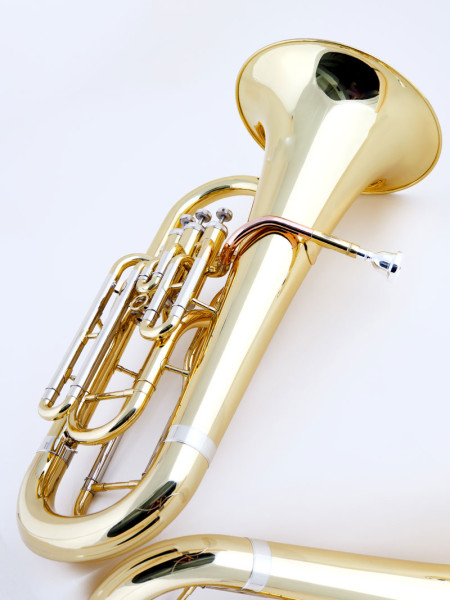 The Euphonium
If you're thinking about learning to play the euphonium, our brass team has put together some useful information for you all about this interesting instrument.
Lesson packages start from £82 per term for children/£100 per term for adults, with discounts of up to £30 per term for Kirklees Priority Passport holders. Please see INSERT LINK TO PRICE LIST PAGE for details.
Click here to
apply for lessons
Let's get playing!
Adults and children over 11 can usually comfortably manage to play the euphonium. Smaller children may be ok too, or may like to start out with another instrument such as the tenor horn which is easier to hold. Children benefit from having their second teeth too. Our teachers will be happy to advise you on finding the right instrument for you. Euphoniums may be loaned from Musica Kirklees for lessons (subject to availability).
Special features
The euphonium is at home in a brass band or playing solos, and we are lucky to enjoy some of the finest brass music in the world in our county. Its uniquely mellow sound comes from the shape of its tubing, which gets gradually wider from the mouthpiece to the bell. Euphoniums can also be found in wind bands.
Why choose the euphonium?
It's always good to choose your instrument because you like of the kind of sound it makes. You might also find it good to know that playing brass instruments has these benefits too:
Good for breathing and posture especially for those who suffer from asthma
You can join lots of groups
Encourages independent learning as well as working as part of a team
The euphonium and its instrument family
The euphonium is a member of the brass family. It is very similar to a baritone, although the baritone is designed to create a brighter sound and very slightly smaller. Both baritones and tenor horns may be a good starting point for smaller children.
Sound is created by buzzing air into the mouthpiece and there are valves too (the buttons that you press) to help play different notes.
The euphonium in action
Euphoniums can play sweetly and smoothly, or upbeat and rhythmically.
The euphonium plays Disney here with Under the Sea by Alan Menken performed by David Werden: