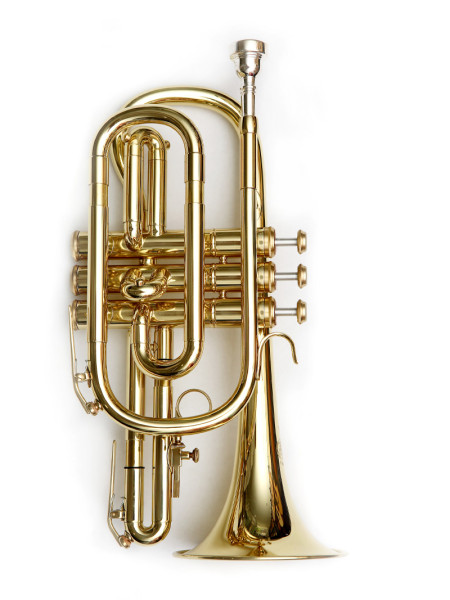 The Cornet
This useful information has been put together by our brass team about this small instrument with a big personality.
Lesson packages start from £82 per term for children/£100 per term for adults, with discounts of up to £30 per term for Kirklees Priority Passport holders.
Click here to
apply for lessons
Let's get playing!
The cornet is an excellent choice for learners of all ages. It's one of the smaller brass instruments making it perfect for younger players and adults alike
Ideally, children would have their adult teeth when starting out, but our teachers will be happy to advise on a case by case basis to ensure that younger pupils are set on the right track to learning the instrument they want to play. Cornets are available on loan from Musica Kirklees for lessons with us (subject to availability).
Special features
You will mainly find a number of cornet players in lots of brass bands and sometimes in wind bands too.
There's a warm and rounded tone to the sounds played on a cornet that compliments the other instruments in a brass band.
Whilst a cornet may look similar to a trumpet, they have different roles in the musical world. Some trumpet players will also play the cornet, and vice versa.
Why choose the cornet?
There's a lot to enjoy for anyone looking to learn to play a brass instrument. The cornet is a popular choice for its relatively compact size and the range of pieces available to learn for beginner and advanced musicians.
Other benefits include:
Good for breathing and posture especially for those who suffer from asthma
You can join lots of groups
Learning to play encourages independent learning as well as working as part of a team
The cornet and its instrument family
The cornet is part of the brass family. Within the brass family, it is a specialist found mainly in brass bands with other specialist instruments like the tenor horn and euphonium. It provides some of the higher, sparkling notes within the brass band framework.
It is much more compact, but suprisingly both the cornet and trumpet have the same lenght of tubes if you were to unravel them. They are both played by buzzing air into a mouthpiece and using the 3 valves (the parts buttons you press down with your fingers). The trumpet however sounds very different with a brighter and louder sound than the sweet and mellow cornet.
The cornet in action
The cornet playing blends with and sails over the band at the same time in this piece.
Flowerdale by Philip Sparke, performed by soloist Peter Roberts and The Yorkshire Building Society Brass Band: