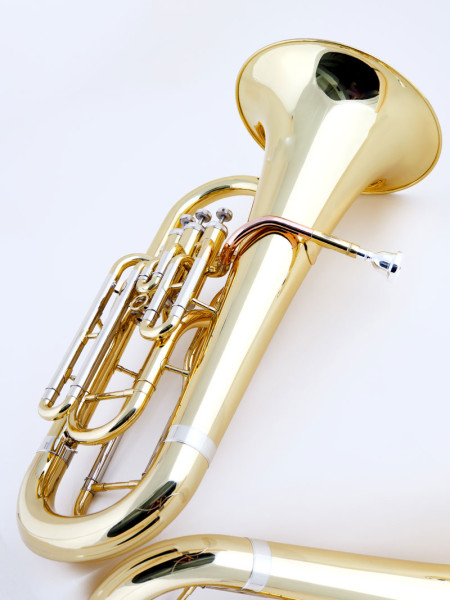 The Tenor Horn
Ready to find out more about the tenor horn? Our brass team has put together some useful information for you.
Lesson packages start from £82 per term for children/£100 per term for adults, with discounts of up to £30 per term for Kirklees Priority Passport holders. Please see INSERT LINK TO PRICE LIST PAGE for details.
Click here to
apply for lessons
Let's get playing!
The tenor horn is an excellent starter instrument for young brass players and adults. It is larger than a trumpet or cornet but small enough to be held comfortably by children age 7 upwards.
In general, it is easier to learn once pupils has started to develop their second teeth, but this varies and depends on the individual. Our team are always here to help if you'd like advice on finding the right brass instrument for you/your child. Tenor horns may be loaned from Musica Kirklees for lessons (subject to availability).
Special features
The tenor horn is found mostly in brass bands or playing solos.
Due to the deep mouthpiece and the conical bore of the instrument it produces a mellow, round tone.
For a larger brass instrument, it is very light and comfortable for even young players to hold.
Why choose the tenor horn?
Some benefits of playing the tenor horn include:
Good for breathing and posture, especially for those who suffer from asthma
Group playing with brass bands and wind bands
Encourages independent learning as well as working as part of a team
The tenor horn and its instrument family
The tenor horn is part of the brass family and looks like small tuba or baritone.
Within the brass family, it often shares the stage with brass band instruments where its range of notes sits in between the high sounding cornets and low sounding tubas. Sound is made by buzzing air into the mouthpiece. There are valves too (the buttons that you press) to help play different notes.
The tenor horn in action
In this recording, the tenor horn is the star of the show, demonstrating its capabilities as a solo instrument.
You're Always There by Lee Fisher, arr. Andrew Wright. Performed by Emily Evans: