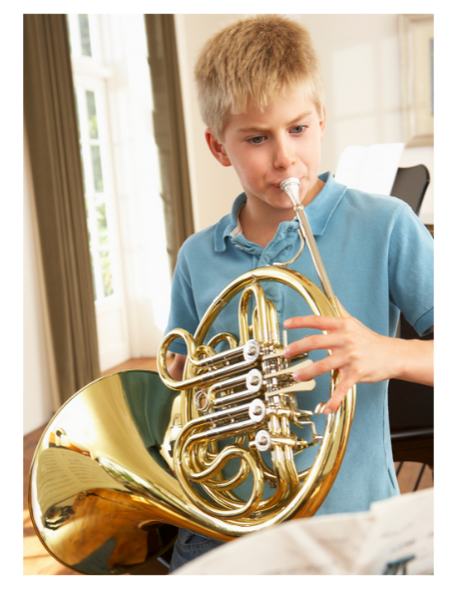 The French Horn
Here's some useful information about this interesting instrument from our brass team.
Lesson packages start from £64 per term for children/£72 per term for adults, with discounts of up to £20 per term for Kirklees Priority Passport holders.
Click here to
apply for lessons
Let's get playing!
Learning to play the French horn is fun and challenging. Children generally benefit from having their adult teeth for playing but if your child isn't at that stage yet our team will be happy to advise on a case by case basis. 'Mini' French horns are smaller and lighter, allowing young children to enjoy playing comfortably. Both mini and standard size French horns can be loaned for lessons (subject to availability).
Special features
The French horn is easy to recognise from its curling snail-like shape. Players are found in orchestras and some wind bands too. French horns are heard in lots of film scores and classical works.
Why choose the French Horn?
When you choose to play any instrument it is best to pick something that appeals to you because of how it sounds and the types of music you'd like to play. It's also good to know that playing the French horn has these benefits:
The notes require fine tuning to play perfectly, developing listening skills and a sense of pitch
Good for breathing and posture especially for those who suffer from asthma
You can join lots of groups
Playing encourages independent learning as well as working as part of a team
The French horn and its instrument family
The French Horn holds a special place within the brass family. It is a conical instrument and uses a funnel shaped mouthpiece which give the instrument its distinctive sound.
There are several types of French horn and young learners start out with a mini French horn.
The French horn in action
Standing up in front of the orchestra, the French horn leads the melody in this concert written especially to show off the instrument.
Horn Concert No. 2 by Richard Strauss, performed here by soloist Zempléni Szabolcs and the Bavarian Radio Orchestra: